10 DIY Baby Proofing Ideas - Genius Ways to Childproof your House
Now that your baby is becoming a crawler, you are probably wondering how can you stop him from turning your house to a mess! These 10 ingenious DIY hacks will bring some sanity without breaking the bank.
Hack #1: First Things First - Openings are Very Dangerous 1/2
Detergent, medications, cutlery, coins ... So many dangerous and choking products can be found inside drawers, cabinets and other openings. Use a hair tie to lock your cabinets.
Hack #2: First Things First - Openings are Very Dangerous 2/2
Have you ever seen a $1.000 being flushed inside a toilet? This is what can happen to your smartphone or your remote controller if you don't lock your toilets. Not to mention some babies drank toilet water!  
Hack #3: What about Balcony Railings? 
Kids can fall or get their legs caught in the rails. This is what happens when you don't secure your rail with a guard. Installing big sheets of masonite boards will do the job.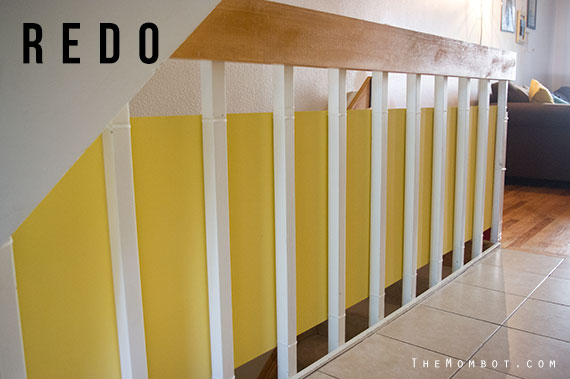 Via: The Mombot
Hack #4: Stair Gates
Secure and Cute! Use a fabric that suits your house decor.
Via: DIY Playbook
Hack #5: Use Rubber Bands to Baby Proof Toilet Paper
Want to avoid this kind of scenes? Use a Rubber Band over your Toilet Paper.
Hack #6: Anchor your Furniture
Earthquakes and climbing can cause furniture to fall on children. Tip-overs have killed more than 200 children since 2000. Secure your furniture to the wall using strong straps.
Via: Two Twenty One
Hack #7: Did you Think About Sharp Edges?
Foam Pipe Insulation along with some tape can do the job. Just make sure you don't use an adhesive that will damage your furniture.
Via: Instructables
Hack #8: And Finger Pinch Guards?
Use some pool noodle to protect the little hands and fingers child from getting pinched or jammed due to a door closing.
Via: Family Handyman 
Hack #9: Avoid Slip and Fall Injuries?
Use some non-toxic fabric paint to create your Baby Non-Slip Socks.
 Via: Wikihow

Hack #10: Last But Not Least - Keep Electric Outlets Out of Sight
Cover your Electric Plugs using some Outlet Caps avoid electrical hazard situations as a result of exposed wall outlets.

---
---
1 COMMENTS
---
Leave a reply